So Internet, it happened.
I've just brought Rascal home from his surgery, and he's out cold in his kennel with a white silk sheet over the bed to help keep him cool. So it's time to talk about the day's experiences and possibly post his very first post-op photos.
The surgeon said it went well, and monitored him for about four-five hours before releasing him to us this evening. His scapula has been left in because of his age and gait said the surgeon, I didn't realize it was an option! He's received two pain shots which has him flying very high. He sort of just dropped to sleep where I set him in his kennel. And I've been sent home with three oral prescriptions. Since he had his surgery today, he cannot have any food through tonight and only limited amounts of water. Just enough to whet his whistle! I honestly wonder if he'll wake up before bedtime.
It's definitely been a bit of a shock to see him with an incision where his leg was, but I must say looking at loads of pictures of dogs fresh from the same procedure has definitely helped me get over that shock enough to carry him home. My arms are so tired though! He's a heavy boy and was dead-weight laying in my arms the entire drive home, the brief pit stop to see if he'd pee in the grass (he didn't), and up into his soft bed.
I've got the living room set up so that I can sleep beside his kennel tonight and keep a very close watch, I've also prepared a movie marathon should it become a late night. The vet warned me there's likely to be some pain tonight since it's very much Day 0.
I think there should be a lot of questions I need to be asking, but my mind is wonderfully blank right now. I'm just so relieved my old man made it safely through another heavy dose of anesthesia. He's resting comfortably for now so I'm going to count my blessings and enjoy this moment spent beside him.
I never realized how wrinkly his loose skin looked before now, the folds are out in the open with his hair shorn away!
I feel like showing off how well he looks with his S curved incision site, so if the fresh post-op photos aren't for you; this post is done!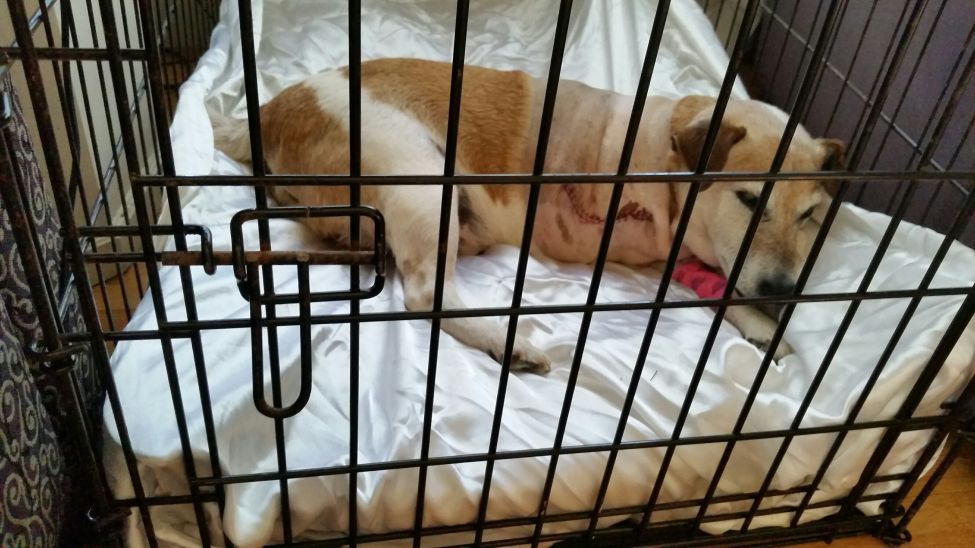 He was still attempting to hold his head up when this was taken, the fight was lost 0.2 seconds later when he dozed off fully. I can hear him snoring gently as I type.
Hoping the Tripawd Nation rests well tonight,
Rascal and Co.