Rascal and Co. had a lovely morning today, and I feel like sharing. We live in a circle of 100 ft. trees which we are very grateful for during these summer heat waves. It also means we have a few hours in the morning when everything is shaded and we can get some landscape maintenance done.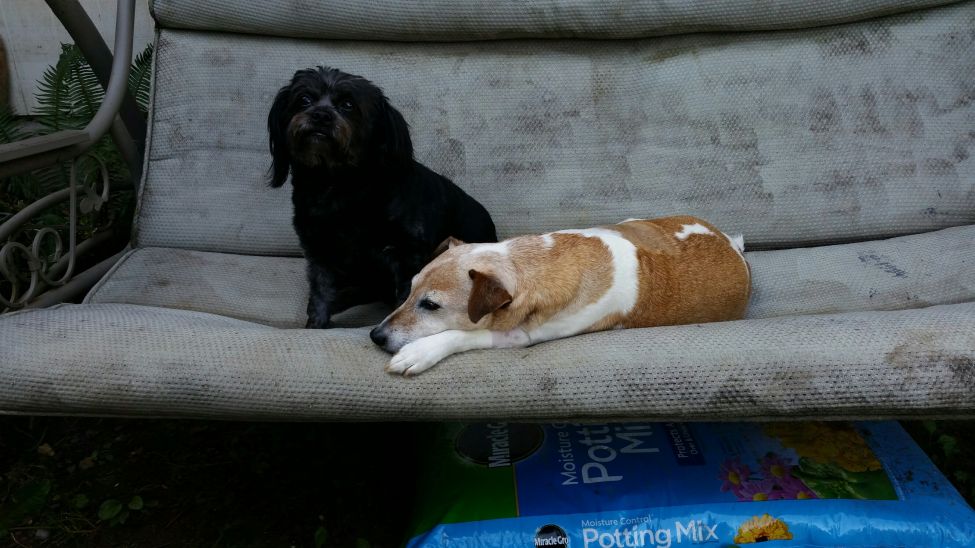 Ultimately I just want an excuse to share this photo. It's one thing to say they make a cute dog couple and another to see it in action. Ebbie is the only animal Rascal will let that close to his incision. So with all of us out gardening or just enjoying the fresh air, Rascal himself couldn't stay behind in the house! This porch swing faces the flowerbeds and is as clean as it's gonna get so we decided to settle him there for a soft surface and a gentle rocking motion. Soon enough his adorable dog wife joined him and they contentedly laid there while we sat on the ground digging in the dirt. What a role reversal!
Hoping the Tripawd Nation is keeping cool!
Rascal and Co.