Hello Tripawds!
So today we hit a month! Feels weird, like it happened yesterday instead of 4 weeks ago!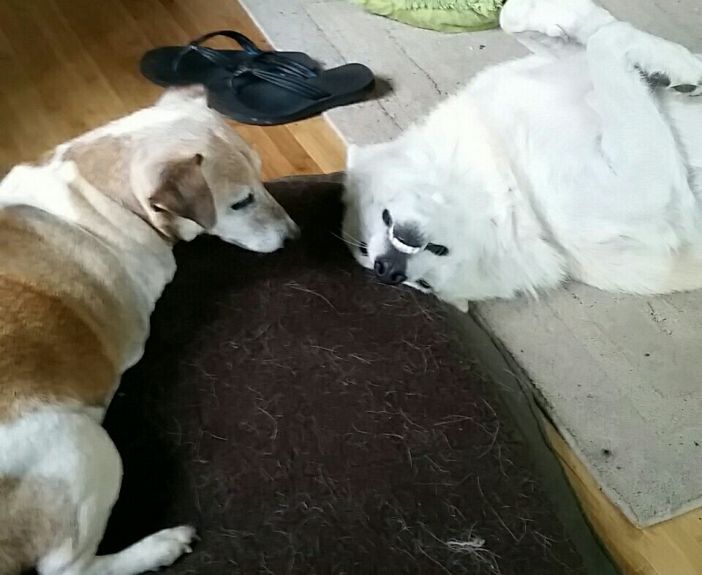 The good news: Rascal is doing fantastic! From taking himself out to potty to jumping up onto the couch and playing with our other pets! He's returning to some of his normal routines from before and it's been such a relief to see. Hops right on over to his old spot for food instead of sticking to the area rug where he's been since surgery! The little things y'know?
The bad news: Rascal has grown accustomed to the spoiling that took place early post-op and now makes silly demands. He'll take himself out to do something, but will then bark until someone comes to get him because he doesn't want to bring himself back in. Or he'll be chillin' out on the couch and will huff until one of us brings a small water bowl to him for a drink versus jumping down to go get a drink himself.
Trying to break Rascal of these quickly formed habits has been like pulling teeth! We make him walk when he doesn't want to because we can differentiate between laziness and true fatigue, and he'll pout the whole way. We help him off the couch and tell him to get his own water from the giant bowl that everyone else uses, and again with the huffing and the pouting! It's equal parts frustrating and hilarious!
Today was a good day though, we left him truly alone for the first time since his surgery to go to a wedding! We puppy-proofed the house and locked them in, and then we all left! Fast forward a few hours and it's as normal as prior to surgery, everyone's happy we're home but no disasters to speak of! If anything they just seemed bored.
Overall it feels great to have come this far, and for life to be resuming with hardly any hitch in our giddy-up! I actually have less pictures and less to say because now all that's left is for his hair to finish growing in and things will be mostly back to normal!
Celebrating one more success for the Tripawd Nation,
Rascal and Co.